"I met with James Staunton twice a week for almost two years. The work we did together far surpassed my expectations. From my first visit I felt a strong level of comfort and trust with him and found it very easy to open up, even when I would start the session by saying I didn't want to talk. He has an amazing ability to identify patterns, provide compassionate care while maintaining firm boundaries, stir up (and challenge) thoughts and emotions that have been unknowingly suppressed for years… he's a natural. And I never felt like he was pushing his beliefs on me. Instead he gave me a safe place to explore the deepest corners of my being and helped bring me back to life. I've seen countless therapists throughout my life; James Staunton is truly one of a kind. I recommend him undoubtedly and wholeheartedly."


"My experience working with James has been very productive and surprising. I did not expect to discover so much about myself, but James very professional and gentle guidance allowed me to comfortably explore my past, connect those experiences with who I am today, and help me clearly see how I can move forward in a much more productive, healthy manner."


Powered by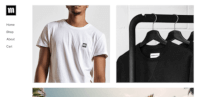 Create your own unique website with customizable templates.